We're excited to announce the launch of FactRight's new, enhanced Report Center website!
The Report Center has become a critical resource for FINRA-member home office personnel and SEC-registered investment advisors who do business with retail alternative investment products—and we've just made it better.
The free Report Center provides you three important ways to stay up on the latest alternative investment products and trends that impact your practice.
Trust the premier source for alternative investment product and sponsor due diligence
Obviously, due diligence is absolutely crucial for any wealth manager working to manage risk for their clients and themselves.
What do FactRight clients find when they register for and log into the Report Center? They discover the premier due diligence resource that helps them stay compliant and informed on the various alternative investments that can benefit client portfolios. The Report Center gives you access to the library of hundreds of available due diligence reports on offerings of commercial real estate (DSTs, qualified opportunity zone funds, REITs, private funds), alternative energy, oil & gas, interval funds, Reg A+ issuers, private equity, and more.
FactRight's third party due diligence reporting provides comprehensive, relevant, unbiased reviews of sponsors and offerings in the alternative investment industry. In other words, FactRight's due diligence reports are designed to help you identify and assess the material risks, mitigants, and other considerations that are necessary to make sound investment decisions.
Tap into the free resource that provides updates on the industry at large
And you won't just get access to FactRight due diligence. Once registered, you'll have at your fingertips the most up-to-date information and industry insights, including white papers, webinars, industry analysis, and informational videos on the alternative investment marketplace. Just like FactRight's coverage of alternative investment products, the FactRight Report Center features educational content spanning the sectors of alternative investments.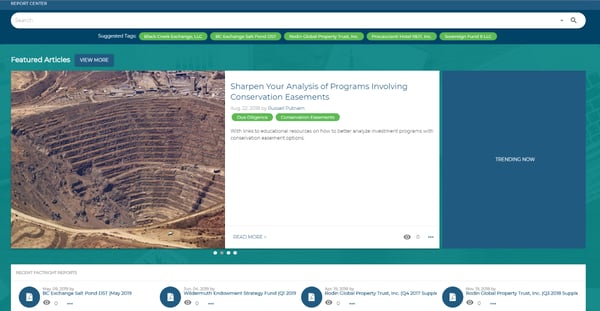 Keep up with your peers
The FactRight Report Center now serves as a due diligence resource to hundreds of financial advisory firms. It has been interesting to see changes in our industry reflected in the ways our clients have interacted with the current Report Center over the last few years. A growing number of registered investment advisors have signed up and become active users of FactRight's due diligence. In addition to RIAs, the BD/RIA-hybrid users have also grown to make up a substantial portion of the Report Center's more than 1,300 users. This follows trends that advisory practices of all types have been have been growing in their use of alternative investments.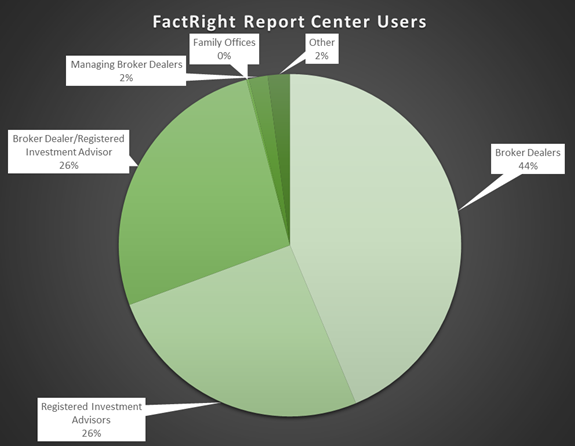 Here are some features of our new Report Center that help you interact with colleagues and customize your experience:
Share due diligence reports with your colleagues directly within the site

Save reports and articles to your library for later reference

Access the latest reports you've downloaded right on the home page

The mobile-friendly view gives you access the Report Center on any device
Follow this link to access the new FactRight Report Center!