The latest Department of Labor print highlights 3.2 million in new unemployment claims filed in the last week bringing the cumulative total to 33.5 million in the past seven weeks. The unemployment rate was reported at 14.7% by the bureau of labor and statistics. Major areas of job losses included:
Leisure and

H

ospitality

:

47% of job losses

Healthcare

S

ervices:

12%

Professional Services: 10%

Retail Trade:

10%

Manufacturing:

6%

Other Services:

6%

Government Jobs: 5%

Other Sectors Combined: 4%
Kimco Suspends Dividend
Kimco Realty Corp (NYSE: KIM), one of the largest shopping centers REITs, temporarily suspended its dividend in light of the economic uncertainties related to the COVID-19 outbreak. Kimco noted that it would evaluate dividend declarations on a monthly basis going forward as well. The firm reported approximately $2 billion in liquidity, including almost $900 million in cash on its balance sheet. KIM's common stock has traded approximately 50% off since February 2020.
Ashford Hospitality Returns PPP Loans
Ashford Hospitality Trust (NYSE: AHT) a hospitality REIT advised by Ashford Inc. (NYSE: AINC), reportedly the largest recipient of PPP loans, has decided to return PPP loan proceeds. The two REITs advised by AINC include AHT and Braemar Hotels & Resorts, Inc. (NYSE: BHR), which cumulatively have returned $126 million in loans according to data from FactSquared. FactSquared has compiled a database of public companies that have received (and in some cases returned) PPP loans. As we have previously noted, AHT has been involved in some public disputes with Brookfield Asset Management, a lender to AHT. The WSJ reports that AHT and AINC chairman Monty Bennet and his father have received $2 million in preferred dividends from AINC, which were 50% less than the amount owed on the preferred stock in the first quarter of 2020. AHT has suspended common stock distributions.
U.S. Energy Consumption: Sources and Uses
The following chart highlights energy usage in the United States. Jeff Desjardins at the Visual Capitalist has some analysis of the evolution of sources and uses of energy over the last few years. Natural gas is up 3% since 2015 and coal is down approximately 5% in the same period. Transportation usage is down 1.3% since 2015 as well, likely attributable to increasing efficiency in vehicles. Curious to see how the 2020 data and the impact of COVID-19 will be manifested in energy consumption and where that transportation mark will come in at.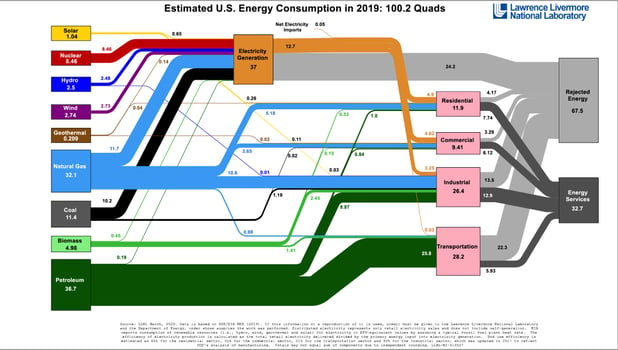 Structured Credit Woes
Oxford Lane Capital Corporation (NASDAQ: OXLC) a publicly-traded fund that invests in CLO securities (primarily CLO equity) reported in its earnings call that approximately 21% of 900 CLOs that it tracks are presently failing an over-collateralization or interest diversion test. This means that approximately 1 in 5 CLOs is at risk of diverting cash flows or is presently diverting cash flows from subordinate tranches to the most senior. OXLC's stock price movement over the past six months is highlighted in the following chart.

"American Magic" but not American Airlines
Warren Buffett noted in his (virtual) annual shareholders meeting that "We have faced tougher problems, and the American miracle, the American magic, has always prevailed, and it will do so again". Inspiring, and historically prescient from the Oracle of Omaha. Mr. Buffet's partner Charlie Munger noted in a recent interview that they were sitting on cash and waiting for the phone to ring on prospective deals, given the uncertainties related to the economy in light of the COVID-19 outbreak.
Berkshire Hathaway recently sold off its stakes in Delta, American Airlines, and Southwest Airlines and United airlines in the wake of the COVID-19 outbreak.
Mr. Buffet in his 2007 chairman's letter noted:
"If a farsighted capitalist had been present at Kitty Hawk, he would have done his successors a huge favor by shooting Orville down."
The Grave Dancer anticipates more carnage
Sam Zell anticipates permanent scarring to the U.S. economy in light of the dislocation related to the shock of the pandemic. Mr. Zell (aka the Grave Dancer) also commented on the pace of commercial real estate transactions that "sellers that wanted to sell still remember the prices that were available seven or eight weeks ago. The buyers are looking at a very different world and expecting to see significant discounts. When you've got that big of a spread, nothing happens." Mr. Zell also noted that he anticipates that in addition to many retailers that might not be able to re-open following the shelter in place orders, similarly, many hotels may experience a similar fate.
Mr. Zell also noted "bankruptcies are what you need to clear markets and what you need to end recessions and dips. The fact that there are a lot more distressed players today will help clear the market, but it also means that there aren't anywhere near as many opportunities as there were in the past."