The latest Department of Labor print highlights 3.8 million new unemployment claims filed in the last week, bringing the six week total to over 30 million claims. The Economic Policy Institute has released some data from surveys they've conducted that suggest the total unemployment figure may be higher than that. The survey results noted below, indicated that many respondents were unable to get through to state unemployment assistance due to crashing websites or jammed phone lines among other reasons.
The Economic Policy Institute notes that their data suggests an additional 8.9 to 13.9 million people may be eligible for such unemployment benefits.
Cetera Financial Group Halts Sales of Non-traded REITs and Interval Funds
The DI Wire reports that Cetera Financial Group announced that it would temporarily halt sales of NAV REITs and Interval Funds due to the impact of COVID-19 on the U.S. economy including the uncertainties related to real estate valuations during the coronavirus pandemic. This follows similar suspensions of certain illiquid investment products from LPL Financial and Advisor Group, which have also halted sales of certain non-traded alternative investments focusing on commercial real estate.
This course of action is prudent in light of the volatility in the market and significant uncertainty about future abilities of tenants/counterparties across numerous asset classes to meet their obligations. When publicly-traded vehicles holding similar assets trade down, it's tough to rush in to more illiquid products that have not repriced as aggressively. In such circumstances it is likely that greater values may be found in depressed publicly-traded securities.
This makes SmartStop Self Storage REIT, Inc. and Strategic Storage Growth Trust II, Inc. (collectively SmartStop REITs) recent investment in Jernigan Capital (NYSE: JCAP) more intriguing. SmartStop REITs have, in aggregate, taken a 6.3% stake in JCAP. The SmartStop REITs built the position in a series of transactions beginning in March 2020. JCAP is a publicly traded REIT with a market capitalization of $307 million as of April 30, 2020. JCAP provides debt and equity capital to developers, owners and operators of self-storage properties with the goal of full ownership of the properties at a later date. JCAP owned 24 self-storage facilities
Mortgage REITs in a World of Pain
S&P Capital reports that in March and April, 9 mortgage REITs suspended their dividends with another 11 announcing dividend cuts ranging from 8 to 95%, with 3 additional mortgage REITs announcing that they would delay dividend declarations. Some of these REITs have also shifted dividend payments from all cash to a combination of cash and stock. As we've previously noted many mortgage REITs have faced margin calls as lenders have sought collateral in light of declining mortgage security valuations.
Back to the Office?
SL Green Realty Corp (NYSE: SLG) Chairman and CEO Marc Holliday notes white collar workers are ready to get back to their offices (well that's an exaggeration). Doubtlessly, Mr. Holliday is right that certain aspects of telecommuting have been less than desirable from a productivity perspective such as "family members doing video bombs", though there is a humanizing aspect to this phenomenon that is difficult to fully grasp. In contrast there are also certain benefits of telecommuting, there can be just as many (maybe more) distractions at the office than at home, there's no one size fits all aspect to this.
SL Green is Manhattan's largest office landlord, with a portfolio comprising 28.8 million square feet of Manhattan office space. SL Green also owns multifamily and retail properties in the New York metropolitan area. Despite Mr. Holliday's sentiments one has to imagine that there could be major secular shifts in office property demand in the future as more people have become acquainted with telecommuting.
Retailer Woes
Coronavirus and more accurately the shelter-in-place response to the coronavirus outbreak is hastening the demise of many retailers. Plenty of retailers were already closing stores en masse prior to the coronavirus outbreak, but the disruption related to the outbreak and subsequent store closures for 4+ weeks may be a bridge too far for many retailers.
The Gap Inc…still exists?
The GAP has suspended rent payments on stores temporarily closed (all North American retail outlets) and is negotiating with multiple landlords to modify or terminate leases and permanently close certain locations. REITs hardest hit include Tanger Factory Outlet Centers (NYSE: SKT) 5.9% of annualized base rent (ABR), Simon Property Group (NYSE: SPG) 3.4% of ABR, Brookfield Property REIT, Inc. (NASDAQ: BPYU) 2.3% of ABR, and CBL & Associates Properties, Inc. (NYSE: CBL) 1.4% of ABR.
JCREW and possibly J.C. Penney Co. Too
Crew is purportedly mulling a bankruptcy filing this weekend. J. Crew was acquired by TPG Capital and Leonard Green & Partners for $3 billion in 2011. J.Crew accounts for 1.4% Tanger Factory Outlet Centers Inc. (NYSE: SKT) ABR, the only REIT reporting it as a major tenant per S&P Capital IQ.
J.C. Penney Co. is in discussions with existing lenders to arrange a debtor-in-possession loan that could help it go through a prepackaged bankruptcy in potentially the next few weeks. The WSJ notes the 118-year old retailer missed an interest payment to bondholders on April 15. REITs with significant exposure to J.C. Penney & Co., as measured by ABR, include Pennsylvania REIT (1.7%), Washington Prime Group Inc. (1.1%) and CBL & Associates (1.0%).
CBL on the Brink
Bloomberg reports that CBL & Associates (NYSE: CBL) has engaged Moelis & Co. and the law firm Weil Gotshal & Manges to help explore strategic and financing options. CBL, which owns more than 100 shopping malls, has seen its stock price decline to $0.29 at the close on April 30, 2020. CBL stock has been listed since 1993 and reached a high of $47 per share in 2007.
It's alive!
CNBC reports that Simon Property Group is set to reopen 49 malls and outlet centers beginning May, 1-4. Masks, hand sanitizers, and temperature testing will be provided to shoppers free of charge! Individual tenants will determine to open or remain closed. I know many in my age cohort are partly responsible for retailer woes with our preference for the convenience of home delivery from web based firms, but given how limited recreation options are….I might have to put on some old man New Balance shoes and take a few laps around the local mall….while ordering things on Amazon.
NAREIT April Rent Survey Results -
NAREIT conducted a survey of publicly-traded REITs regarding April rents received. The survey results weighted by equity market cap of the 54 respondents is noted in the following table: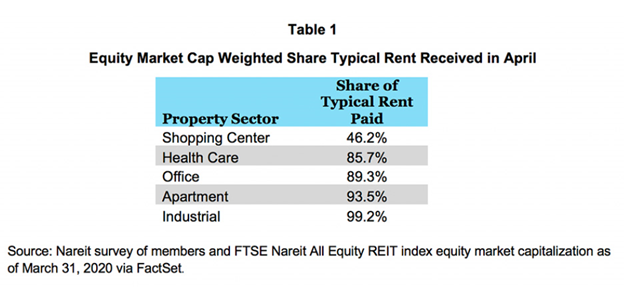 NAREIT noted that medical offices were lagging in the healthcare sector with skilled nursing and senior housing facilities relatively stable. Shopping Center data corresponds largely to grocery-anchored retail. NAREIT reported that it would not release data related to regional malls or single-tenant net lease landlords as survey results did not warrant the release of data for these sectors.
Federal Reserve Action
Now is not the time to worry about debt according to Chairman Powell. Of course…..leave that legacy for your millennial grandchildren! The Fed has purchased almost $2 trillion in treasuries and mortgage securities in the past six weeks, additionally Congress has signed off on over $2.6 trillion in stimulus in the same period. Chairman Powell anticipates more stimulus will be needed. Powell further noted that at some future time we "can work to get our fiscal house in order". It seems almost inconceivable that our society would be capable of mustering the political will to do that. Maybe we'll never need to get our fiscal house in order, as advocates of modern monetary theory posit.
Big(liest) PPP Recipient
Ashford Hospitality Trust (NYSE: AHT) a hospitality REIT advised by Ashford Inc. (NYSE: AINC) has been reported to be the largest recipient of PPP loans. AHT has received over $38 million in loans under the program and applied for dozens more loans totaling in aggregate approximately $123 million. The WSJ reports that AHT and AINC chairman Monty Bennet and his father have received $2 million in preferred dividends from AINC, which were 50% less than the amount owed on the preferred stock in the first quarter of 2020. AHT has suspended common stock distributions. Mr. Bennet has also taken a 20% reduction in salary and deferred 25% of his $2.3 million cash bonus from 2019, due from AINC. Brookfield Asset Management Inc., (Brookfield) a lender on certain AHT hotels, has alleged that AHT and AINC committed a "fraudulent scheme" by moving money from hotels to the parent company in the second week of March, according to the WSJ. Brookfield, which holds a defaulted loan secured by a portfolio of AHT hotels, further noted that AHT and AINC actions are part of a "pattern of suspect insider transactions designed to accelerate or disproportionately benefit insiders even as creditors are not being paid." Chairman Bennet responded that the money is AHT's to use and it may use it for overhead, dividends or employee salaries. AHT hired a subsidiary of AINC to negotiate forbearance agreements or refinance AHT's debts, performance fees payable on the affiliated arrangement that may be as large as $20 million.
AINC also serves as the external advisor to Braemar Hotels & Resorts Inc. (NYSE: BHR), which as of February 2020, has an effective registration statement for non-traded redeemable preferred stock that they are looking to market in the IBD/RIA channel. BHR has reportedly received $15.8 million in PPP loans.
In the midst of this developing story Douglas Kessler "voluntarily" resigned as president and chief executive officer of AHT, and as an executive of the REITs external advisor AINC.
AirBnB had a rough month
Airbnb, which was planning on an IPO in 2020, and most recently sold stock at a $35 billion valuation, has had a rough stretch with a reported $1.5 billion in rental cancellations in March 2020. Numerous AirBnB landlords, including a couple of startups, have amassed (with significant leverage) portfolios of properties that they are restricted from renting out as many states and counties have banned short-term rentals. This will likely lead to defaults, and hopefully in the creative destruction of markets, the right entry price for yours truly to purchase a vacation condo somewhere that's warm, and leverage it up and rent it out when I'm not using it…wait a second. One would be curious as to what AirBnB's valuation in the enchanted unicorn forest is looking like as many anticipate long-term changes in travel.
Elon Musk doesn't like the shutdown and Nate Silver of 538 fame wants to get back to the ballpark! At this point I'd be ecstatic to simply catch my Minnesota Twins on the television or radio!