Macro policy continues to dominate the headlines as massive job losses continue with 5.2 million unemployment claims reported in the past week, bringing total claims in excess of 20 million over the past month. This accounts for approximately 13% of the total labor force. The following chart breaks unemployment claims out state-by-state and by percentage of the respective state's workforce scaled left-to-right: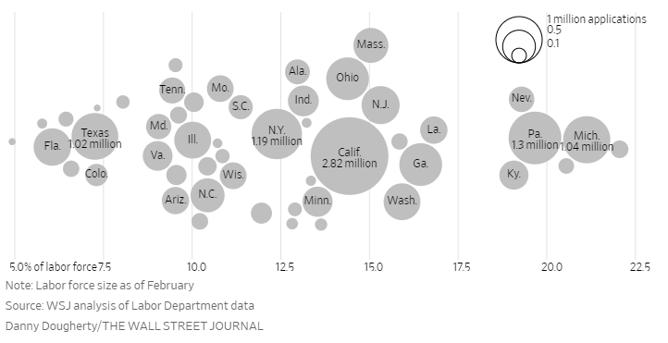 Similarly, initial economic data out of China is abysmal as Chinese first quarter GDP dropped 6.8% year-over-year. Well that's the official number at least. More or less believable than the report that China officially had only 52 new cases and one new death on April 15, 2020? This marks the first GDP drop on a sequential basis since Deng Xiaoping's reforms and China began keeping such records.
Tapped Out
In less than two weeks the CARES Act's Paycheck Protection Program (PPP) administered through the Small Business Administration has apparently run out of funds available for individuals and small businesses. The disbursement of funds related to the program has been chaotic according to certain reports. Many small businesses that did not have established lending relationships with banks were left in the cold. Fintech companies, including Square, Intuit, and PayPal, had problems with approval to function as conduits for the PPP lending program and additional complications relating to obsolete SBA computer interfaces that reduced small business access to the program.
Ruth's Chris Steak House noted on April 7 that they received $20 million of such loans.
Lease Accounting COVID-19
FASB has provided some guidance on accounting for lessors that provide relief to lessees to mitigate the economic effects of COVID-19. This relief may include lease deferrals, payment forgiveness, and reductions of future lease payments. The guidance notes that the landlords can effectively punt on evaluating if the concession is a lease modification, provided that the concession does not result in a substantial increase in the rights of the lessor or the obligations of the lessee. Many REITs have announced such COVID-19 concessions in the past weeks and are likely to continue to do so in the coming weeks and months. This guidance helps provide some clarity to landlords related to this delicate issue and may encourage further concessions as it will likely reduce significant operational challenges for landlords including the need to account and report such modifications in a more detailed and costly fashion on future public filings. FASB did note that lessors should consider disclosure requirements under GAAP accounting to allow investors to understand the nature and financial effect of material rent relief provided or granted related to the effects of the COVID-19 pandemic.
We anticipate a significant increase in footnotes across public REITs over the coming quarters in light of this guidance. Bring on the footnotes!
The Fed is a Great Client to Have!
Hearing the late President JFK's call, Blackrock has stepped up to the plate to purchase potentially hundreds of billions of dollars of bonds on the Federal Reserve's account related to programs to help stabilize credit markets in the face of the broad economic shutdown. Given the $7 trillion reach of Blackrock and its management of funds across every sector and security imaginable, one has to wonder how the firm will deal with likely significant conflicts of interest in what securities it decides to purchase for the Fed. Preliminary agreements with the New York Fed note Blackrock will act as a fiduciary and further include limitations on fees. Blackrock has noted it won't charge AUM fees on assets in Blackrock funds or any ETFs purchased on the Fed's account. Regarding the agency mortgage backed securities purchases, the investment management agreement notes that Blackrock will receive an asset management fee of 0.02% of assets for the first $20 billion purchased 0.0125% from $20 billion to $50 billion and no fees beyond $50 billion. This may play out to a cool $75 million per year.
BlackRock Inc. (NYSE: BLK) reported net inflows of $35 billion into its managed funds complex during the first quarter. Blackrock noted that this was despite $40 billion in outflows in the last five weeks of the quarter as markets went on a roller coaster ride. Comparatively, the world's largest asset manager reported net inflows of $65 billion in the halcyon days of the first quarter of 2019. CEO Laurence Fink noted that $7 billion of net inflows were attributable to illiquid alternatives.
We anticipate investors chafing to first quarter volatility will continue to provide a strong tailwind to alternative investments in the future.
The 1031 Bid
A recent report from CBRE highlights that over 85% of bids on multi-family properties were from private capital noting that the 1031 buyer is the biggest source. CBRE further noted that institutional capital comprised 10% of the bid and that public REIT's have largely faded as active participants.
Loan Covenant Info
Reorg Research, Inc. has numerous (excellent) podcasts that have interesting insights into the evolution of credit covenants in the leveraged loans market. Given current economic conditions many people in that trade may be getting familiar with some of the byzantine covenants, or lack thereof, for the first time in the coming quarters. A couple notable points include that many lenders and borrowers are waiving or modifying covenant compliance requirements over the next few quarters to preclude borrowers exercising rights related to the loans. Additionally, Reorg notes that some borrowers have agreed with lenders to modify trailing 12-month EBITDA coverage calculations (after such waiver periods expire) to omit EBITDA numbers in certain to be reported quarters in 2020 and instead look back to borrowers' 2019 EBITDA. No word yet on any moniker for this phenomenon, maybe non-sequential-pre-pandemic EBITDA? It doesn't have quite the same ring to it as WeWork's community-adjusted EBITDA. FS Energy & Power Fund recently disclosed an amendment with certain lenders that waives covenant compliance requirements until July 1, 2020.