*Technically, it's been eight years since our first fall conference on September 28th, 2014, but due to the monotony that was daily life in 2020, and that we didn't have a fall conference that year, and my brain thinks 2019 was last year. Oh, not you? Just me? Well then.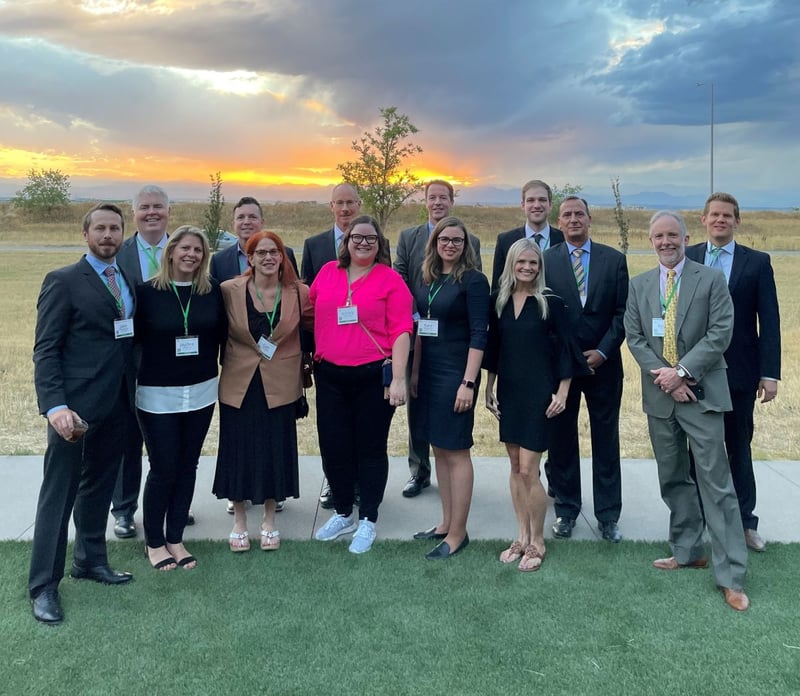 I know we say it every year, but we mean it. Truly. Thank you for making this conference in Denver, Colorado, our biggest and best yet with more than 300 total attendees. With record-breaking attendance, the FactRight staff couldn't be more grateful for your support and appreciate all the positive feedback we have received from so many of you. So, here's some positive feedback for you:
To our 135 wealth manager attendees, who traveled by plane, train, and automobile to be with us: you rock. It's great to see familiar faces in the ballroom and meet new friends. Without your participation and contribution, there are no events. We are thankful for all of the meaningful conversations you took part in and appreciate your hard-hitting questions during sponsor presentations and breakout sessions led by FactRight analysts.




To the 25 sponsors who presented to our wealth managers in attendance, the nine exhibits, and five networking sponsors: thank you! If you were not supportive of us and our events, this year's conference would not have been as great.

FactRight CEO Gail Schneck and FactRight Co-President and MC Russell Putnam spoke briefly on FactRight's web-based report center. It features all of FactRight's due diligence reports covering a wide variety of structures and strategies, including DSTs, QOZs, REITs, Oil & Gas, Interval Funds, etc. If you're looking to access valuable research and analysis on the presenting sponsors featured at the conference, be sure to visit the FactRight Report Center, where you can download due diligence reports in full.
Happy Clothes! After over a year of primarily remote working wearing comfortable clothing, I was worried that the crowd would arrive wearing dark colors and being serious and no fun. Nope! We saw jewel tones! Rainbow pants! Blue hair! Purple cowboy boots! Pocket squares intentionally matching lanyards! Double-breasted suits and spats! SPATS!!!

We require business attire at our events (yes, we did see some flip-flops and board shorts), but I applaud everyone for being themselves while doing it! Find the tie or scarf that makes you smile. Or the socks that your kid gave you. Or the colorful shoes. I'm going on the record here to attempt not to wear black, grey, or navy at our next event.
Thank you to our panel moderators and participants who shared their thoughtful insights and added to conversations on an array of topics. We'd like to recognize and thank our guest moderators

Jacob Mohs

,

founder of

Interval Fund Tracker

,

for leading the discussion on interval funds, and

Anya Goverman

, S

VP of Government Affairs and General Counsel of the

Institute for Portfolio Alternatives (IPA)

, and her panelists for their discussion on legislative and regulatory policy issues wealth managers and sponsors need to know. And last but not least, a big thank you to FactRight's Chief Operating Officer, Brandon Raatikka, for leading the conversation on the syndicated DST market with some of the industry's key players.


Co-President and keynote speaker,

Jake Heidkamp

, provided updates on market conditions and developments in the alternative investment space over the last year. If you're looking for ongoing industry updates, we recommend that you check out

FactRight's weekly updates

on significant events for alternative programs, including liquidity events, mergers, and other industry news.
The two Colorado beer tastings were a big hit, especially in the gorgeous outdoor terrace local. Bonus points to the booths that had the foresight to bring hats. They were trendy for sunset viewing while networking.




We'd also like to remind you that our due diligence support is always at your fingertips. If you have any questions regarding information covered at the conference or any other due diligence inquires, please don't hesitate to reach out to FactRight's team of analysts. We hope to see you at FactRight's next event, tentatively set for Spring 2022. Stay tuned for more details - coming soon! Until next time, thanks again to all who participated, and be sure to check out the free resources below, available to you at www.factright.com.
Contact Information:
General Counsel
(612) 284-5482