We'll continue our Meet the Team blog series by chatting with Scott Smith, president and CEO at FactRight and family man.
Scott Smith
Title: President and CEO
Joined FactRight: April 2012
Education: University of Missouri School of Law (J.D): University of Missouri (B.A., Political Science)
Professional affiliations: State bar of Minnesota; State bar of Missouri; Board of Directors – Institute for Portfolio Alternatives (IPA), Alternative & Direct Investment Securities Association (ADISA)
Areas of focus: leadership, sales and marketing
What is your client philosophy?
The value of a company can be fully expressed by how its clients describe their experience working with that company.
Why do you love working at FactRight?
There's not a day that passes that I'm not excited by our company's opportunities to build new relationships with financial advisory firms. I believe we've uniquely positioned our firm to deliver more solutions to firms and advisors by utilizing the tremendous content generated by our people. As they say, content is king, and we're finding new ways to help our audience simply do their jobs using that content. That all speaks to a very exciting future for the firm, one that our clients will begin to see more clearly in the very near future.
What are you working on currently?
I'm working on three main items: 1. Working closely with our new VP of Sales, John Paliotta, to get in front of more prospects and learn more about what their pain so we can continue to evolve the solutions they need, 2. Developing direct marketing for our True Diligence service and working closely with some highly creative people at the company to enhance how we create and market our content, and 3. Enhancing the firm's technology. We've led the way among our competitors in how we've utilized technology. Now, after several years of seeing how clients have used it, and learning more about them in general, we're ready to take the next step.
What big industry problem would you love to solve?
Gosh, all of them😉. I'll flip this question around to answer it by highlighting two immediate opportunities for FactRight: 1. Continue to eliminate the inefficiencies in the diligence process around direct alternative investments. Inefficiencies is what I call a "fat word" that doesn't describe anything in particular, but most readers will agree that the process between sponsor, BD and RIA is rife with inefficiencies, and some of them could be eliminated by an aggregations service that our firm is uniquely qualified to provide. 2. Advisors' interaction with their clients, particularly registered investments advisors. Every time we bring up that item in a room with IRAs, their eyes start to light up. Their job is to find more high net worth clients. Alternative investments are a primary tool to do that job. For us to build a tool that enables advisors to better do their jobs would solve a big industry problem.
What is your typical day like?
Well, I have four kids ages 7 and under at home. So, my typical day usually starts with one of them jumping on top of me to ask what's for breakfast. From there, I try my best to start the day in planning mode... the day is usually won or lost in the morning. Lately, that means writing down three things I'm grateful for, three things that would make today great and three affirmations, all before I leave the house. Once at work, my calendar runs my days. No two days are even remotely alike. Whether it's talking with sponsors, building proposals, travel or in person meetings, or trying my best to communicate with my colleagues at FactRight, every day is packed. At the end of each day, I try not to leave anything on the field of play. Finally, I try to end it as I began it by writing down three things that went great during the day, and three things that didn't.
What do you do outside of the office?
With a big family and kid activities, I occupy 90% of my free time with them, and they all have different interests and activities. One activity that's becoming more non-negotiable for me is hitting the gym 4-5 times per week. Heavy workouts keep my mind clear and focused. We live in a great neighborhood who all have a bunch of kids, so my time with friends is usually in someone's backyard with drinks by a firepit. Finally, I've had a goal for months to read one business book and one non-business book each month. Despite my best efforts, I've missed that goal more than I've hit it.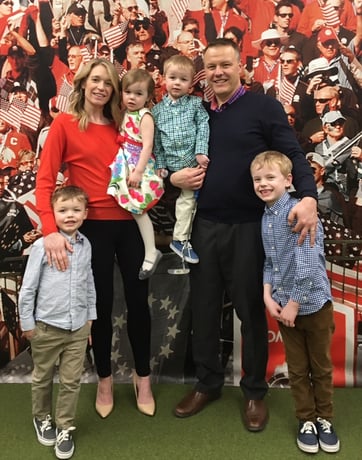 What types of books do you read?
I'm drawn to biographies, and recently finished Jon Meachum's book on Thomas Jefferson [Thomas Jefferson: The Art of Power] not long after reading Doris Kearns Goodwin's book on Abraham Lincoln [Team of Rivals: The Political Genius of Abraham Lincoln]. Walter Issacson's work on Da Vinci might be next on my list.
What movie can you watch over and over?
Saving Private Ryan.
What's in your Netflix queue?
My Next Guest Needs No Introduction; Comedians in Cars Getting Coffee; Ozark; Billions (Showtime, not Netflix)
What is the last music you listened to?
Whatever is playing on 89.3 The Current, a real gem offered up though Minnesota Public Radio.
What is a quotation you are pondering?
An organization's ability to learn, and translate that learning into action rapidly, is the ultimate competitive advantage." - Jack Welch
Connect with Scott on LinkedIn.
Recent FactRight blog posts written by Scott:
What We're Learning About RIAs and Alternative Investments
The Masters: A Customer Experience Unlike Any Other
FINRA Set to Draw a New Line of Hybrid BDs