A robust pipeline of new interval fund registrations indicates continued growth is likely throughout 2018. Total interval fund assets now exceed $23.8 billion. Total net assets for the sector grew 56% over the most recent 12-month period, to $19.9 billion. Although newly launched funds are gaining momentum, the sector is highly concentrated in the top 10 funds.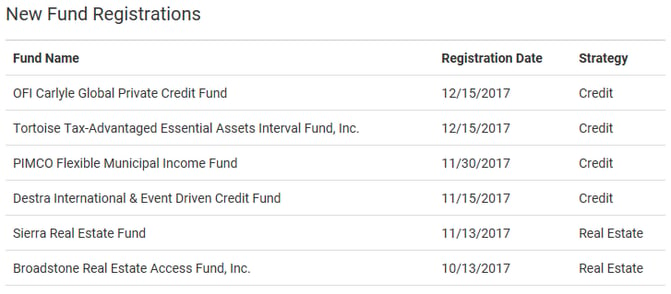 Initial registration statements are a leading indicator of industry growth. Funds filing initial registration statements in late 2017 will usually begin raising capital by late 2018.
Six interval funds filed initial registration statements with the SEC in 2017Q4, compared to nine funds in 2016Q4. PIMCO registered the Flexible Municipal Income Fund, its second interval fund. PIMCO Flexible Credit Income Fund, launched in February 2017, and had net assets of $141.7 million as of September 30. Medley Management registered Sierra Real Estate Fund, its third interval fund. Medley Management's Sierra Total return fund launched in July 2017. The Sierra Opportunity Fund is still pending effectiveness with the SEC. Four managers without any offerings currently structured as interval funds registered new funds in 2017Q4. Notable additions to the lineup include Carlyle and Broadstone.
As of December 31, there were 23 interval funds pending registration with the SEC. Credit strategies are by far the most popular among new entrants: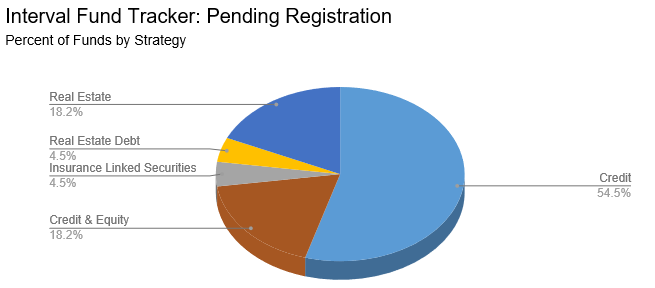 As in the prior quarter, creation of new interval funds has outpaced the creation of non-traded REITs and BDCs. Nonetheless, the new non-traded REIT entrants in 2017Q4 include several larger asset managers: Nuveen Global cities REIT, Starwood Real Estate Income Trust, and Rodin Income Trust.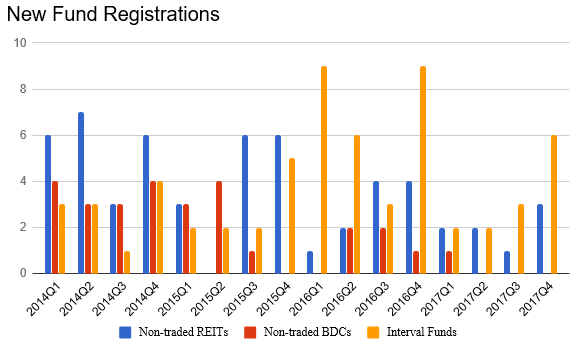 Blackstone dominated 2017 non-traded REIT sales, with approximately one-third of market share by sales. Meanwhile, Blackstone also registered an interval fund earlier in 2017.

The SEC declared effective 3 interval fund registrations statements in 2017Q4. These new funds bring over $3 billion in new shares for sale into the market. Note that Pathway Capital Opportunity Fund is formerly known as Pathway Energy Infrastructure Fund, restructured from a closed end fund focused on energy infrastructure.
Growth in total interval fund assets
The recent growth in the interval fund sector reflects increased investor demand for yield products and acceptance of the structure. Total interval fund net assets equaled $19.9 billion, up approximately 56%, from $12.7 billion just 12 months ago. Most interval funds use relatively moderate leverage or maintain net cash positions. Total gross interval fund assets totaled $23.8 billion as of the most recent filings.
Note: this was originally posted by the author on Interval Fund Tracker.