The latest Department of Labor print highlights 3 million in new unemployment claims filed in the last week bringing the cumulative total to over 36 million in the past two months. Goldman Sachs forecasts that the unemployment rate will peak at 25%, rivaling the worst period of the Great Depression.
Interval Funds and the Great Financial Crisis
The Interval Fund Tracker has some key insights related to interval fund performance during the 2008 financial crisis. The best stuff is behind a paywall…it's worth it.
Owl Rock Debt Covenant Amendments
Owl Rock Capital Corp. (NYSE: ORCC) is working on amending debt covenants on approximately 10% of its portfolio companies, noting that another 10 to 20 of its 101 portfolio companies have been in discussion with ORCC regarding prospective amendments but no amendments were made. ORCC CEO Craig Packer noted that less than half of the the amendments were "material".
Given the proliferation of covenant-lite loans over the past decade, one might be pleasantly surprised that there are that many loans with covenants left to modify!
The California State University system is likely to close in-person classes on campuses for the fall semester according to Chancellor Timothy White. The University of Alabama; the University of North Carolina System; Texas Tech University; the University of Tennessee; the nine-campus University of Louisiana system; and Morgan State University in Maryland, have stated they expect to hold classes on campuses in the fall.
One expects there will be many more developments in the coming weeks and months related to individual school decisions. American Campus Communities (NYSE: ACC) CEO Bill Bayless noted that they are 76% pre-leased for the fall semester, and that lease cancellations were actually slower for this fall than in previous years. Bayless stated many on-campus college housing options have dense bath facilities and accomodations and that ACC is engaging universities about how ACC's properties may be able to assist in getting "students back to campus in comfort in terms of being able to implement CDC guidelines." ACC stock is down approximately 40% since February.
SEC Proposed Rule Modernized Fund Valuation Practices
The SEC proposed a new rule under the Investment Company Act of 1940 that would establish requirements that boards of registered investment companies and business development companies must follow to determine in good faith the fair value of portfolio holdings without readily available market quotations for purposes of the 1940 Act and would codify the common practice of assigning the determination of fair value to a fund's adviser, subject to certain conditions.
EY notes that the proposed rule represents the first comprehensive valuation guidance from the SEC since 1970. Morrison Foerster provides an excellent summary and analysis of this topic.
The proposal would require fund boards or advisers they assign to determine fair value to periodically reassess and manage material valuation risks, including material conflicts of interest, and establish written policies and procedures for valuation purposes.
Many of these ideas are already incorporated into best practices for many firms. Interestingly, regarding the use of third-party valuation services, the board or adviser would be required to establish processes for approval, monitoring, and evaluation of any valuation service provider taking into account the experience, history, valuation methods and techniques, inputs and assumptions used in models, including any potential conflicts of interest and efforts to mitigate them.
Comments on the proposed rule are due July 31, 2020.
Multifamily Rent Payments Slightly Lag 2019 Rent Payments
Data on over 11 million apartment units from the National Multifamily Housing Council notes that 87.7% of apartment households made a full or partial rent payment by May 13, 2020, compared to 89.8% in the halcyon days of May 2019. That partial word may be key.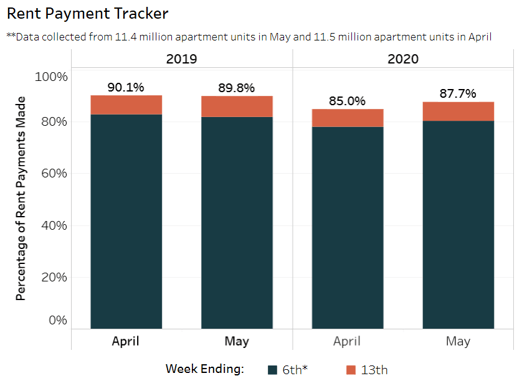 Federal Reserve Begins Buying ETFs
The Federal Reserve is beginning to purchase exchange-traded funds. The efforts designed to support credit markets in light of the economic disruption related to the shelter-in-place orders across many states due to the COVID-19 outbreak. The U.S. Department of the Treasury has seeded $75 billion in equity to support the purchases of ETFs and corporate bonds, the Federal Reserve can leverage that equity investment 10x to $750 billion. Barron's reports that the corporate bond market is worth approximately $9.6 trillion, indicating a prospectively substantial bid from the Federal Reserve. BlackRock Investment Management will manage the Federal Reserve's purchases under the program, which is anticipated to last until September 30, 2020, unless extended. Criteria related to the purchases are noted by the New York Federal Reserve. A few nuggets from this exhaustive list of criteria include (emphasis added):
"the preponderance of ETF holdings will be of ETFs whose primary investment objective is exposure to U.S. investment-grade corporate bonds, and the remainder will be of ETFs whose primary investment objective is exposure to U.S. high-yield corporate bonds."
The program will not purchase:
"shares of an ETF that are trading at a premium above the lower of the following limits relative to the prior end-of-day official net asset value (NAV): (a) 1%, or (b) the 1-standard deviation level of the ETF's premiums to end-of-day NAV observed over the prior 52 weeks, on a rolling basis. These limits will serve the dual purpose of avoiding overpayment for an ETF relative to the cost of purchasing its underlying assets, and avoiding contributing to elevated demand that an ETF may already be experiencing, while affording operational flexibility."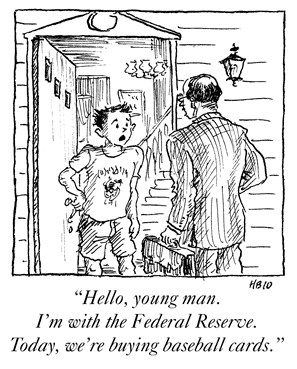 No guidance has been provided on when the Federal Reserve will purchase your old baseball cards.
59 Pages of Social Distancing
McDonalds has produced a 59 page internal memo regarding social distancing at its restaurants. I have not read this memo, I assume golden arches' diners are to take 59 sheets of paper and line them end-to-end and maintain that interval of distance away from other patrons at all times.
Stanley Druckenmiller is Pessimistic
The famed investor noted that the risk-reward calculation for equities is the worst he's seen in his career. Further stating that government stimulus programs won't be enough to overcome real-world economic problems, a sentiment echoed recently by Federal Reserve Chairman Jerome Powell. Mr. Druckenmiller doesn't believe that the $3 trillion in stimulus funds is likely to spur future economic growth, noting "It was basically a combination of transfer payments to individuals, basically paying them more not to work than to work, and in addition to that, it was a bunch of payments to zombie companies to keep them alive."
Are you ready for some Fussball!
Sports fans get ready now in addition to Korean baseball, German soccer will return tomorrow. While fans will not be allowed to attend matches in person, one team is allowing fans to pay approximately $20 to have a cardboard cutout of themselves at the stadium for the game. Now that is clever marketing!