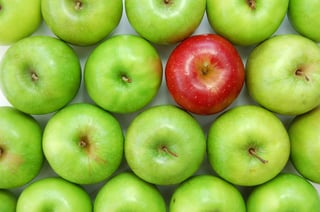 Many advisors have difficulty differentiating their practices and themselves from other advisors. How do you convince investors that you are the best advisor to handle their assets? In the current competitive climate, identifying your key features and benefits is vital to building a solid client portfolio. Here are some practical and objective ways to help you stand out from everyone else.
Go beyond the Fiduciary Rule and market your services as completely fee-based
The fiduciary standard is no longer a factor that differentiates advisors on the playing field. It has become the new baseline for what clients expect. Even though there is a lot of talk that the effective date for the Department of Labor's Fiduciary Rule may continue to be postponed, most brokers and advisors have already fully implemented compliance measures and are operating under the new rule. There is no going back.
The Fiduciary Rule is here to stay and its impact has gone well beyond retirement asset investments. Investors continue to demand transparency across the board and are no longer willing to pay higher fees on any product. Unless it is in the best interests of your clients to offer commission-based products, consider moving away from them to a more DOL-friendly, level fee structure. For advisors, this is a very-marketable move and investors are responding enthusiastically.
Environmentally and Socially Conscious Investments (ESG)
A recent DOL rule has opened the door for these ESG funds to be included in 401(k) plans. While the Trump administration's position on ESG funds in retirement accounts is unknown, investors will likely continue demand for these products regardless. Women and younger people overwhelmingly tend to invest in products that they view as socially responsible.
Interestingly, surveys show that approximately one out of every six dollars invested by this group goes into ESG investments. Marketing that you are on-board with this trend and have products to offer in appropriate categories can help you set yourself apart with investors who have significant investment funds.
Risk management and planning with stock protection funds
Product offerings can help distinguish your practice. For instance, stock protection funds are new products in which individual investors contribute various amounts of cash to a joint pool. The funds are conservatively invested for five years. After five years the cash is used to offset any losses incurred by investors. If there are no losses, investors receive their cash back.
During the previous five-year period, investors hold stock, collect dividends, and benefit on the appreciation in value. Stock can be sold at any time. These funds, helpful for high-net-worth investors that have large positions in single stocks, are becoming more readily available on advisor platforms. Offer these to help investors manage the downside risk of concentrated positions.
Embracing digital
The digital trend is creating opportunities for advisors to offer additional fee-based services: Digital access in the event of disability and combination advisor and digital investment services. Investors of all age and wealth groups have fueled the trend toward online, transparent investment platforms. As a result, a client may be unable to access his or her own online accounts in the event the client becomes incapacitated, relocates overseas or simply forgets about the account over time. Advisors can offer to assist clients to access digital assets by including a provision in their estate plans that allows access to a friend or relative.
You can also compete directly with "digital" advisors and big brokers who offer robotic investment suggestions and increase income by offering more fee-based services. Big custodians offer a combination of low-cost, digital investment services and access to account management and advice by a personalized financial advisor. Independent advisors must also keep fees competitive, the platforms offered must provide privacy and anonymity and respect the investors' contact preferences.
Offer more fee based,

à la carte

services
Investors want to know what they are paying for and have control over investment fees. This is more transparent and palatable than absorbing fees into nebulous, asset-management charges. Banks have mastered this concept and bring in almost as much income from fees as they do by shrewd investing. Lawyers charge fees for consultations and are generally moving toward fee-for-service type of billing.
Move away quickly from percentage-based fees based on assets-under-management for a client. Advisors must now offer clients an à la carte fee model and a digital investing option with and the freedom to select the services they want.
Your credentials, experience and training do matter
Clients will always want to know your track record. They care about your ethics and your reputation for treating clients honestly and respectfully. To this end, obtaining testimonials from past or existing clients or other professionals can be a priceless asset, which you should make known. Whether it is on LinkedIn or your bio page, let potential clients know that you are on their side and looking out for their best interests. Consider displaying your educational credentials, ongoing training, your fiduciary status, specialties or target-clients, licensing, compliance history, types of services you offer and a list of fees per service.
Overall, advisors who have nothing to hide and willingly share information about their services, fees, ethics and experience will be more attractive to potential clients. Adding in a mix of digital-investing services and eliminating all commission-based fees may enhance an advisor's ability to attract the best clients going forward.