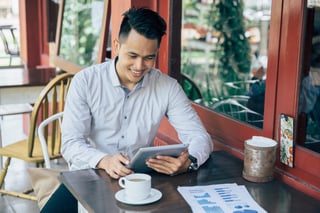 Today's investors are savvier and not shy about demanding what they want. They seek transparency, easy account access and transacting ability, higher yields and lower fees. One significant reason is the access to nearly unlimited information that has come with the proliferation of the internet. More than ever before, investors have information at their fingertips. They come to their advisors more informed — and sometimes more misinformed — than ever before.
Access to information has accelerated new technological developments. It used to take new technologies years to be adopted. Now, it takes only months. Advisors must take advantage of digital trends so that they can generate wealth for their clients, and they must stay informed to help them avoid potential pitfalls. Here are some digital trends that are changing the investor-advisor dynamic.
Greater access for mass-market investors
With new technology and changing laws, banks, non-banks and startups have stepped up to the plate. They've developed modern investing platforms and offer alternative investments that were previously available only to very wealthy or institutional investors. These investments were previously off limits because they were too expensive, required too grand of a commitment or were simply not offered to this group of investors.
The JOBS Act, which was passed in 2012, has made a myriad of crowdfunding opportunities possible, both for accredited and non-accredited investors. And technology has facilitated the kinds of investment opportunities now sanctioned by law. Businesses are increasingly using internet crowdfunding portals to reach all types of investors. Minimum investment is often low, and payoffs can return much higher yields than traditional investments.
These new portals may offer greater transparency, a wide selection of flat-rate stocks, low or no-fee trades and simplified portfolios. However, RIAs should be cautious on behalf of their clients. Startups that are less risky often have the funding they need through angel or venture capital and do not turn to crowdsourcing. The startups seeking crowdsourced investors are commonly riskier, unknown and unproven. Many are very early in their lifecycles and have not yet tested their business plans in the market.
Higher Yields
As digitization of the investment experience has expanded options, it has increased the yields available to retail investors. And the search for higher yields is playing out in the biggest way in the retirement-account sector. In the past, investors were stuck in funds yielding low returns and without access to alternative, higher-yield investments. Younger investors looking to start an IRA or 401(k) were unimpressed with the offerings a few years ago and drove demand for alternative investment retirement options.
Older investors, frustrated with lower and lower returns, also helped drive demand for alternative options. Now, people looking to grow their retirement accounts have several alternatives to the staid and static mutual fund offerings of the past. Prudent retirement planning may now include diversified investments in non-exchange traded products.
Now, everyone has access to real estate investment opportunities in alternative markets. Also, the many crowdfunding portals allow regular investors to lend money to pre-qualified borrowers via peer-to-peer loans, earning 5 to 10 times as much as they would in a savings account.
Lower fees
Startups now provide novel ways to invest at a fraction of historical cost. Some offer investments by themes and ideas such as coffee or health insurance. These companies bundle securities into groups digitally suggested by investors' preferences.
Because the system is digitally driven, these companies can keep costs extremely low, often charging monthly or annual fees that can be as low as $10 per month. The bundles of suggested stocks may contain 30 companies' shares, for example, yet investors pay only the monthly fee for the bundle, not for each individually traded company. This can save investors thousands of dollars each year on trades.
However, in the age of cost-effective digital options, advisor counsel is more important than ever. Investors need guidance in sifting through the options and an independent voice to temper information found on internet investing platforms. The lack of diversified strategy overseen by advisors will cost self-directed investors more in the long run.
Startups answered investors' calls, but advisors need to be smart
Technology brings low transaction fees, more knowledge, better investment products and access to higher-yield investment options. However, advisors need to be smart. They must stay on top of a rapidly-changing digital environment and take advantage of new investment options. Many will see these opportunities as a way to differentiate their practices. However, with new digital trends come high risks, and thorough due diligence and prudent advice are more critical than ever.