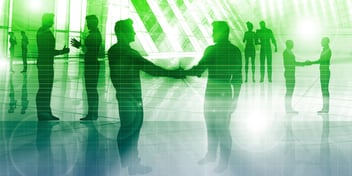 You have likely been on the client-side of a client/advisor relationship at one point and have plenty to say about what the advisor did right and what the advisor did wrong. Yet, being on the advisor side, you know that it is still not always easy to develop a deep professional relationship with every client. There are so many personal factors that affect how people interact with each other, that preaching a set of behavioral rules set in stone seems futile. Yet, if you take a look at the big picture, some clarity is possible.

Be realistic
Recognize that not everyone can get along with everyone. There will always be clients who simply cannot get along with anyone. They argue for the sake of arguing and no matter what anyone does, says, documents or proves, they will not change their minds or their opinions. With this kind of a person, it is best to admit defeat and not try to meet their expectations, even if you can figure out what it is they want.
Other professionals, like lawyers, are advised by ethics advisors to avoid accepting this type of client, even if there is a significant fee at stake. In the long run, it will not be worth the risk of being sued for malpractice or over a fee owed to the firm. Inevitably, these are the kinds of clients that expect the most from you and then doesn't fairly compensate you for your time and advice.
Be yourself
The easiest thing to be is yourself. But that includes being truthful and ethical, in addition to being competent in what you do. These things at minimum will determine your rapport with clients. If clients can trust you, and they sense that they can because you are being yourself, then you will succeed in working with them for the long term. If clients can't determine who you are, if they feel like you are hiding behind professional accolades
Of course, we all need to restrain ourselves within the confines of civil behavior, legal behavior and proper business behavior. That goes without saying. The alternative is to lose your job or worse, end up in a messy lawsuit. But if you let your personality shine through, meeting a new client and establishing a relationship is that much easier. You won't have to think about fitting a mold, just about letting your knowledge and experience shine through your real self.
Be a good listener
Most clients love to tell you about their lives: the good, the bad and the ugly. It is extremely important to learn as much as you can about your clients and what they want out of working with you. Take notes whichever way works best for you. Some advisors ask clients for permission to record conversations so that the advisor can go back later to verify the client's short and long term goals.
You'll also then be able to ask follow-up questions about what the client expects from you or the client's investing philosophy. You'll be able to ask what those concepts mean for this client. For example, if a client states that he wants a certain rate of return within so many years, ask why. What's behind this goal? A terminal illness, fear of recession, a disabled child? Knowing the details behind a stated goal can help you make proper recommendations to meet it.
You'll also find out if the expectations are reasonable or not. Do you and your firm's philosophies mesh with this goal and how do you plan to accomplish it? How comfortable are you working with a client whose ethical standards regarding investing are not in line with yours? Do you bristle when a client suggests a course of action, not in line with his risk profile, that could bring in a lot of money to you but could result in a loss to the client? You will want to know where each client stands.
When you listen well and listen often, you will be able to regularly review the client's investment goals and objectives. You'll understand how often the client expects your review, input and follow up. It also helps you to define your role with the client, that you are there to help them achieve their investment goals. You are accountable to them and regulators. And, you are accountable to yourself by practicing at the highest level of professionalism and ethics.
It might be especially challenging to learn about clients' philosophies that are diametrically opposed to your own. This could happen on any number of topics. This is the time to review what your own boundaries are with this particular client and how you keep your own biases or philosophies to yourself. Or do you choose to not work with this client? If you can, will you provide objective advice? If you can't, do you refer this client to a colleague, because that would be in the client's best interest?
Be professional
After becoming very familiar with your clients' lives, their past experiences, their ups and downs, their current situations and their future goals, it's time to rope everything in tightly and work within professional and personal boundaries. Every advisor should understand what the professional boundaries are. Advisors are bound by law, by ethical rules and firm policies. Knowing what these are and how they affect client relationships is paramount to anything else.
Understanding where your personal boundaries are can help support you when the professional constraints may not be clear to you or when a client's behavior clashes with your principles. Are you able to put your personal beliefs about religious matters aside if they clash with your client's? What if your client wants to generously give to a political candidate whose views you oppose?
You will likely learn many of your client's views in the long conversations you have with them while getting to know what their priorities and investment goals are. While you have no obligation to disclose yours to the client, many clients may try to force the issue, as a condition to hiring you. Other clients may demand a more personal relationship with you or insist on seeing you outside of business hours.
Maintaining professional boundaries is a top priority for your career, your well-being and your clients' welfare. It is often difficult to recognize where these boundaries should be. Often clients can become friends over time or circulate among other friends and relatives. Try to take a step back and analyze the circumstances underlying a client's sudden change in demeanor toward you.
Often a death in the family, a divorce or a sick child can understandably cloud a client's judgment. As a professional, you must keep even the most empathetic emotions in check to preserve the advisor-client relationship for the future. If you have any doubts, consult with your colleagues and ask for advice or help. Many of them have undoubtedly encountered similar situations and can help you come up with an appropriate course of action.
Be Aware
When you have questions about your obligations to a client or other important matters, it is critical to identify and address them. Ask for assistance to help you clarify the big picture, preserve your reputation, protect your client and avoid being dragged into litigation. Even the best of intentions can cause major headaches and result in expensive settlements.
Succeed by being professional, honest and true to yourself
In addition to being knowledgeable and experienced while advising clients on alternative investments, you must be able to build strong relationships with your clients over the long term. Clients hire you not just for your expertise, they hire your personality. Let that charm and wisdom shine through, professionally and ethically.
Listen to their goals and dreams and wishes for the long term. Instill confidence in them that you listened well and will work with them to try your best to make those things happen. Be you and be true—while doing the best you possibly can to achieve your clients' goals.